Skip to content

MenuSearch
Real Estate
The 32,000-square-foot Stanford White masterpiece at 130 Bowery could fetch upward of $50 million.
By Mark Ellwood
February 11, 2019, 7:00 AM EST
For the first time in almost two decades, the 32,000-square-foot former headquarters of the Bowery Savings Bank goes on sale today, Feb. 11.
It's a true landmark on New York's Lower East Side. The building has been listed on the National Register of Historic Places since 1980 as emblematic of the work of Stanford White, the swashbuckling Gilded Age starchitect whose racy life (and scandalous murder) was recounted in the recent best-seller,The Girl on the Velvet Swing.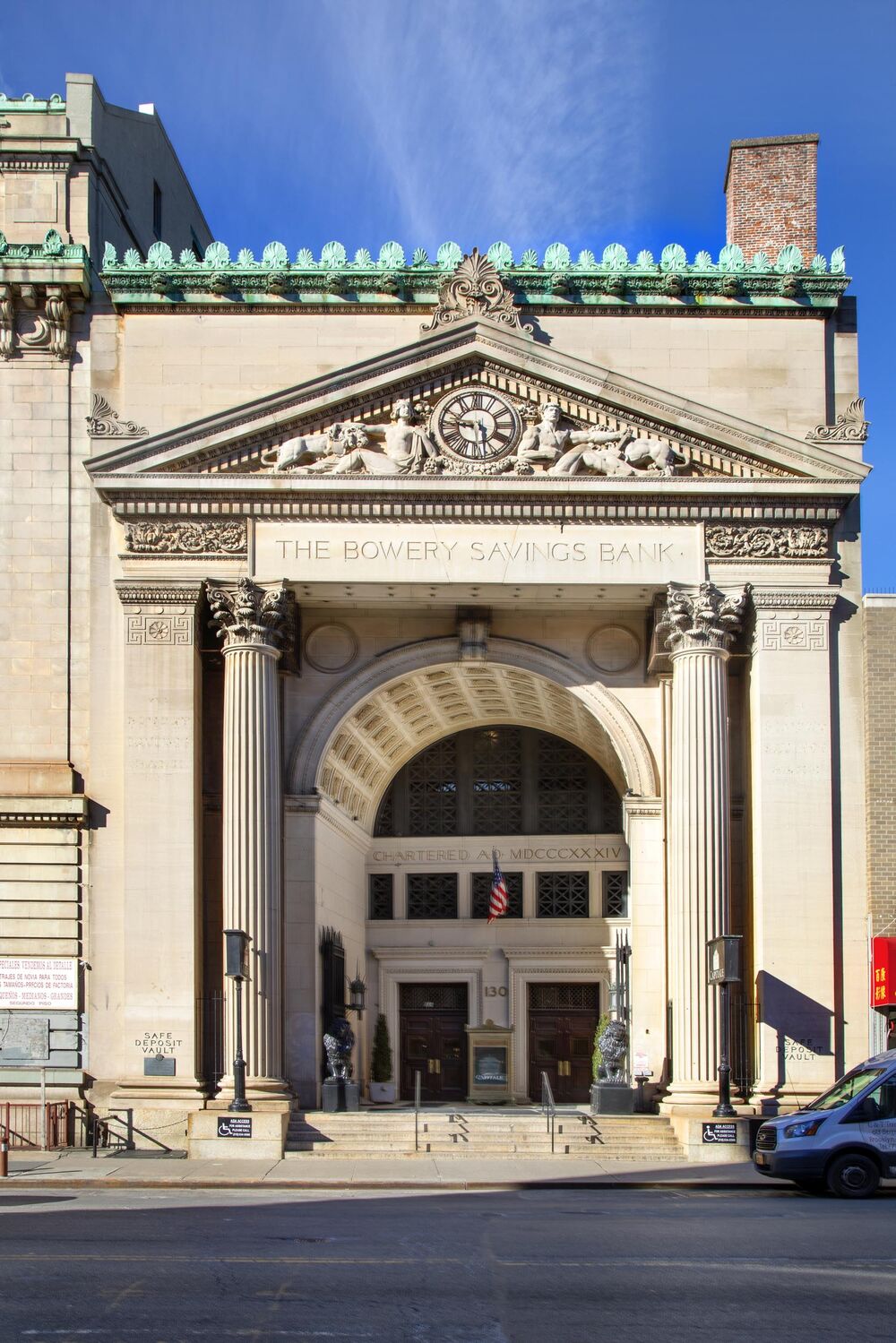 The exterior of 130 Bowery.
Photographer: Michael Weinstein/MW Studio
Much like White's other masterpieces, including the arch in Washington Square, 130 Bowery is a neoclassical fantasy. It has 90-foot ceilings, marble-clad interiors, and even sculpted pediments by Frederic MacMonnies on its façade. It's currently occupied by the high-end events space Capitale, which has a lease through 2032. "They're not going anywhere," says Michael Marvisi, the building's owner. Wendy Maitland, the broker who's handling the sale, could eventually see the space as a food hall, perhaps, or a boutique.
How much will it fetch? "That's the $65m question," she teases. "My instinct says it will certainly be in the fifties." Maitland's hesitance regarding the final number derives from the unlikely way she's put in on the market: There is no asking price. Instead, 130 Bowery will be sold through an auction, a technique usually reserved for motivated, or distressed sales—think bankruptcy, foreclosure, or divorce, for example.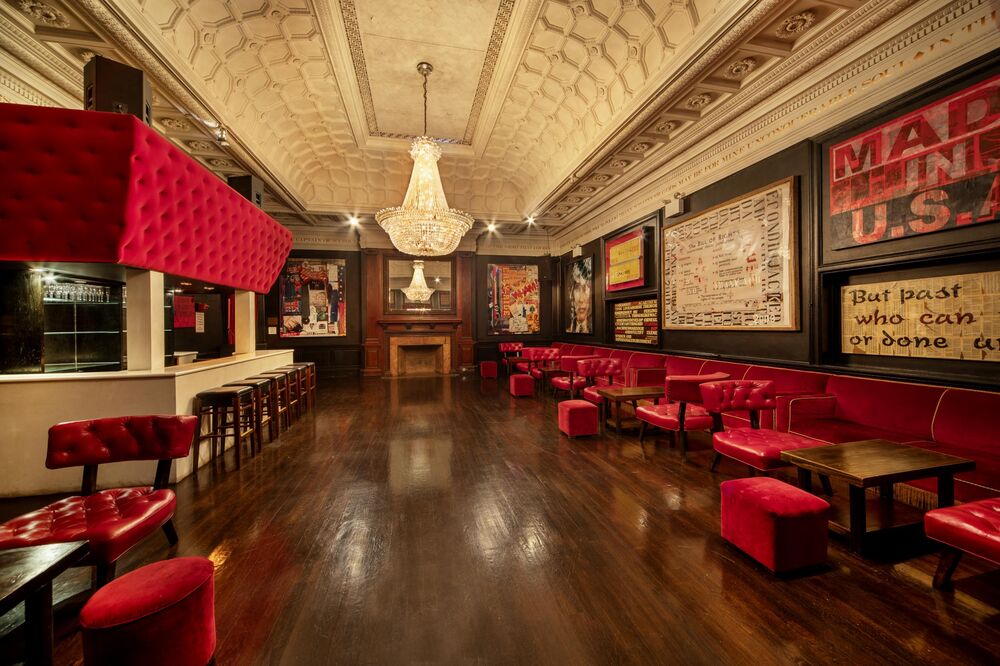 A private VIP bar and lounge on the upper level.
Photographer: Michael Weinstein/MW Studio
The soft real estate market in New York has given agents license to try more unusual methods to offload property. Maitland, a veteran broker who counts Madonna, Bruce Willis, and Woody Allen as former clients, just set up her own independent firm, Atelier WM, after a two-year stint at Brown Harris Stevens. Determined to challenge conventional sales tactics for luxury real estate in her new role, she struck up an unexpected first strategic partnership late last year with real auction specialist Paramount Realty. The property at 130 Bowery will be their first joint sale.
"The word auction does carry strong meanings," says Paramount founder Misha Haghani. "For some, they hear the word and think 'motivated seller,' and that is an important part of our business model. We're not in the business of holding property but of selling it." Lately, though, his firm has branched out beyond that well-trodden auction path: After Haghani's sale of President Donald Trump's childhood home two years ago, the investor who bought the Tudor-style property in Queens via auction from Paramount immediately relisted it with Haghani's firm, making a more than 50 percent profit when it sold again for $2.14m.
Maitland stresses that the current owners of the building are not the typical clients in this situation. "I wouldn't take the listing if I weren't confident they're serious sellers. That doesn't mean desperate," she promises. "They're based in Los Angeles, so this isn't a core asset for them."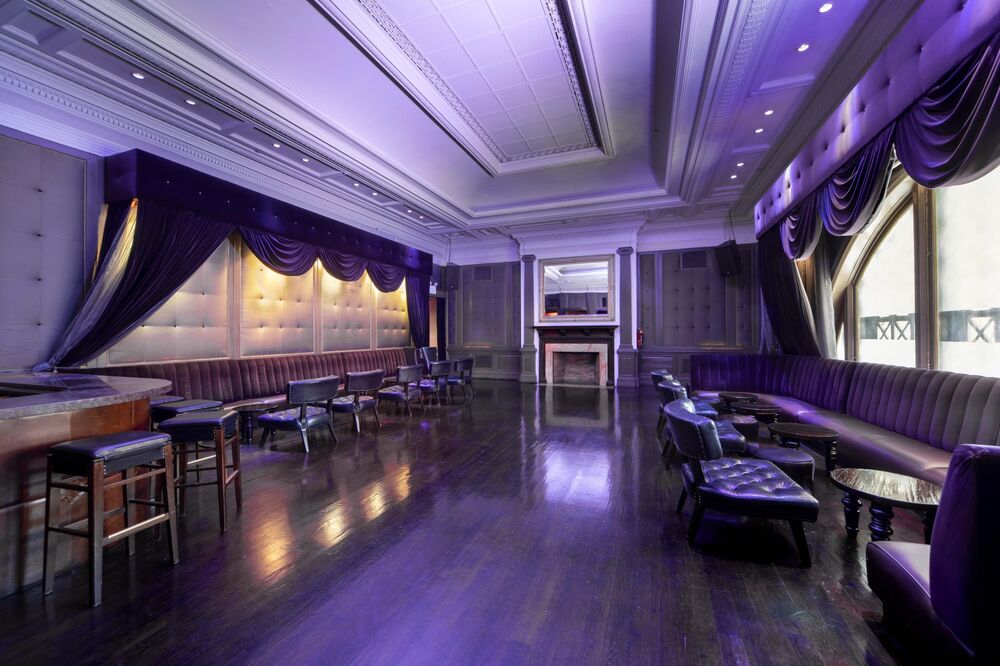 A second lounge on the upper level.
Photographer: Michael Weinstein/MW Studio
Potential bidders for 130 Bowery will be asked to tour the property and submit written bids, along with a deposit of $1 million, before the auction deadline of April 30. If more than three viable offers are received, a live, auction house-style sale will take place.
The original partnership, which includes the current owners, purchased the building in 2000 from Greenpoint Bank. Bowery Savings Bank had been sold in 1985 and then, in 1992, the bank was sold again to H.F. Ahmanson & Co. The name of the bank was changed to Home Savings of America, then sold to Greenpoint Savings Bank three years later. (The first mortgage recorded under the acquisition group's name numbered $3.45 million. Since then, the current owner bought out two of the partners for an undisclosed sum.)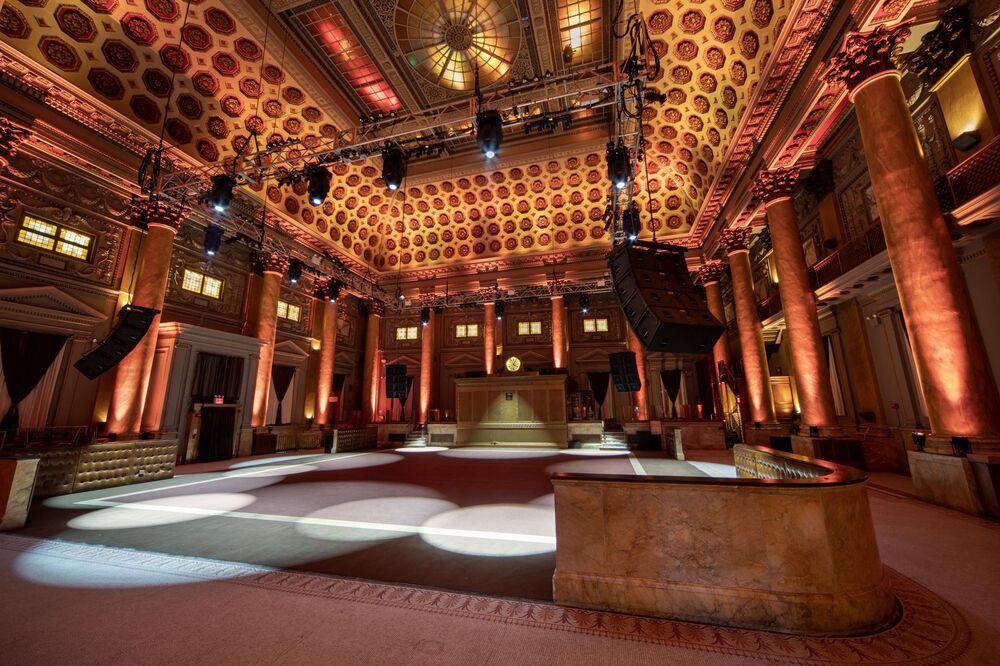 The former banking room and current grand ballroom.
Photographer: Michael Weinstein/MW Studio
Maitland is keen to burnish the auction process with bona fides you might find at an auction of fine art or rare watches. She has brought in curator Rachel Vancelette, a veteran of blue chip galleries such as Barbara Gladstone and Yvon Lambert, to stage an exhibition of 30 or so works in the building. "We want to have work there that speaks to the space itself," she says.
Vancelette plans to tap a starry roster of contemporary talents for the show, such as Will Ryman, a sculptor who has an apartment nearby, and painter Elizabeth Peyton. "Artists that have been shown at New Museum, people who are part of that community, that's the area I'm looking to," she explains. She hopes that some will even create specific work for the one-off event in response to the Stanford White building itself.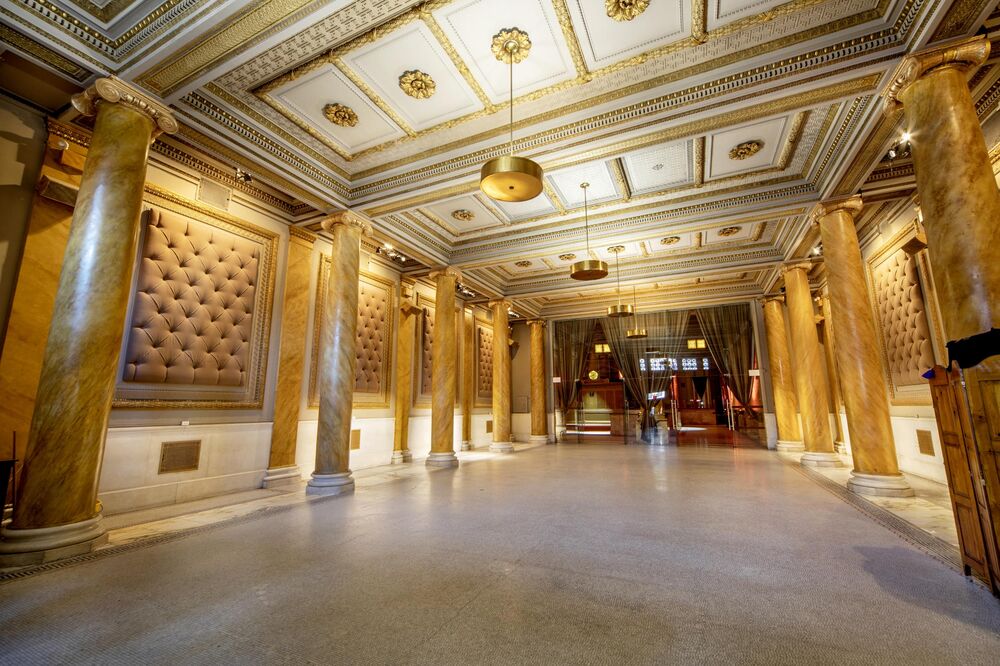 The atrium at 130 Bowery.
Photographer: Michael Weinstein/MW Studio
Once the show is assembled, a portion of the art works will be sold online, via digital auction specialist Paddle8, while the starriest lots will be auctioned live on March 13. (A portion of the proceeds from both will go to nonprofit No Kid Hungry.) Any guests will be offered the chance to tour the property as they browse the art on that occasion.
The hope is that this curated show will help emphasize the connection between fine art auctions and real estate ones such as that at 130 Bowery, rather than the struggling properties that usually come under the real estate gavel.
"The connotation of an auction of a property is that it's a fire sale, but this is quite the opposite," Vancelette says. "The owners are like art collectors. The building itself is a work of art. They're now ready to pass it along to its next owner, whom they would like to see as someone who appreciates its history and pedigree." (The sale will take place provided a reasonable offer is received within the appropriate range.)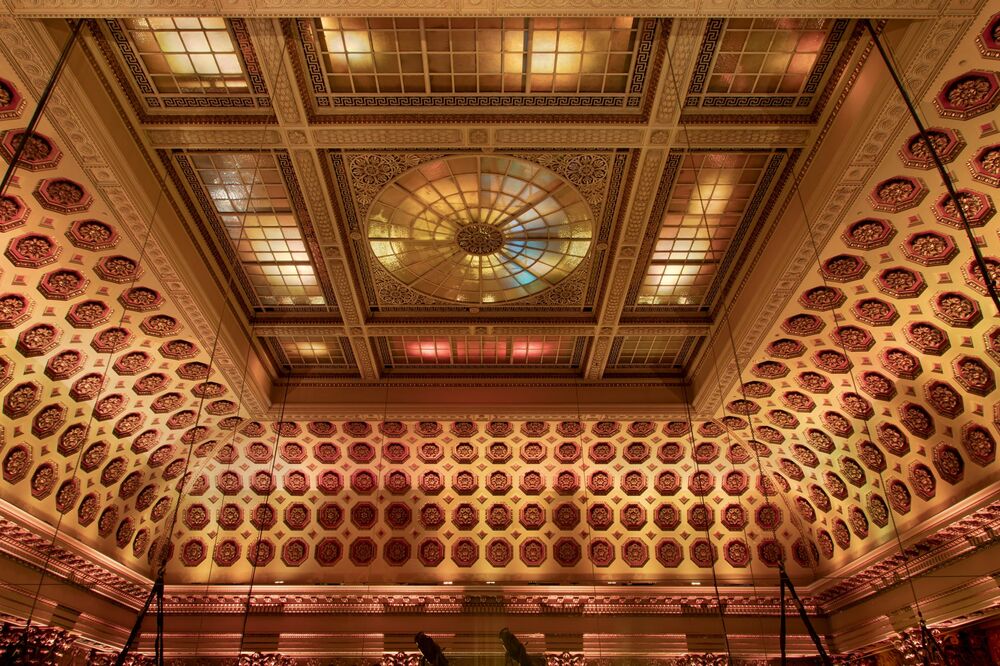 The grand ballroom's 90-foot-high ceiling, with its original stained-glass skylight.
Photographer: Michael Weinstein/MW Studio
This could prove to be a canny move as real estate and art worlds become increasingly entwined. And now that they're comfortable and familiar with the likes of Christie's and Sotheby's and Philips, potential clients may be less likely to disdain a similar approach taken to selling homes. Juicing interest with splashy, art-heavy publicity—plus a looming, firm deadline for the chance to buy—is a way to stand out.
There have been a few luxury auctions since the market slowed, says Amy Plitt, New York editor for the Curbed real estate site, but nothing of this caliber. (The penthouse at One57, for example, was offloaded as a foreclosure.) "I've never heard of this before—treating a property as its own luxury auction item," she says. "It will all depend on perception: how it's staged, how good the messaging is, how willing people are to buy into that narrative. It's difficult to overcome but not impossible."